The Simplimatic team is headed to Pack Expo, North America's largest packaging trade show, in Las Vegas, September 25-27, and we can't wait to show you what we're bringing to booth #5003! In the land of wax museums, infamous casinos, and flashing lights, we know the draw to our futuristic advancements in packaging automation will fit right in. There are plenty of reasons to visit Las Vegas, Nevada, but we're going to give you our top five reasons why we think you should stop by our Pack Expo booth while you are in town.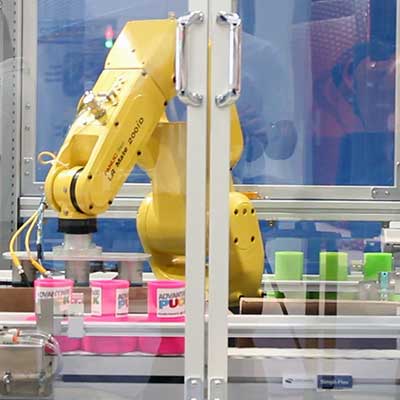 1.) Custom In-line FANUC® Robotics Systems at Work
At Pack Expo we will be displaying a FANUC LR Mate 200iD, which will be working hand-in-hand with our Simpli-Flex® 83mm Tabletop conveyor. This versatile robot is becoming quite a staple product in many of our customers' manufacturing floors, and it will be showing attendees how to streamline final product boxing, by precisely picking and placing multi-colored pucks from the conveyor and placing them in a nearby container. This robot is the lightest mechanical unit in its class, yet features an enhanced wrist load capacity. These benefits allow Simplimatic to integrate this versatile machine into many different environments for tasks such as sorting, picking and placing, screwdriving, assembly, packing, dispensing, and more.
2.) Robotic Palletizing Is Fun to Talk about, but It's More Fun to Watch.
Simplimatic integrates FANUC© robots of every size and orientation for companies around the globe, and the team is looking forward to showcasing one of our largest FANUC© robots at the show. Along with the previously-mentioned FANUC© LR Mate 200iD, we will also be demonstrating our FANUC M-410iC palletizing robot, which has a payload capacity of 185 kg (407 lbs). This four-axis, high-speed palletizing robot has the capacity to sort and stack more than 30 different sized cases ranging from 5-40 lbs, and will be working to demonstrate several different box stacking methods.
"The system is very large, so of course we can't wait to see visitors' reactions, and get the chance to tell them all about the robot," Kevin Welsch, Marketing Manager, said.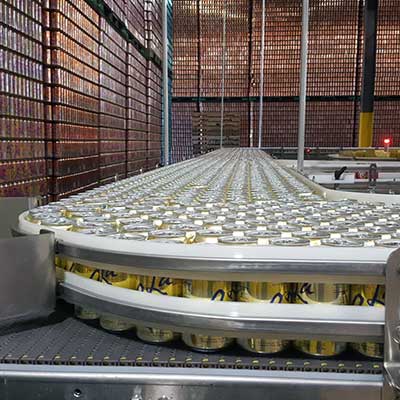 3.) See Stainless Steel Beverage Conveyor That Put Simplimatic on the Map
Simplimatic's stainless steel beverage conveyor systems have been serving industries since 1965, and show visitors can see the reliability first hand as Simplimatic's systems work to transport cans. The show system will show singulators and accumulation on the line, demonstrating how Simplimatic's conveyors effectively handle significant line back-pressure while maintaining product integrity.
Simplimatic's beverage conveyor systems are a trusted staple product for companies around the globe handling plastic bottles, aluminum cans, glass bottles, and other large beverage items. Simplimatic's conveyor is highly customizable with multiple frame types and chain styles available to provide customers with an easy-to-integrate Mat Top conveyor solution.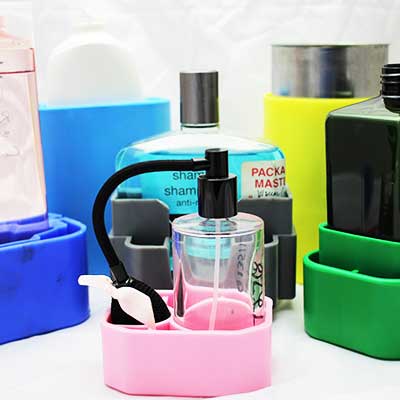 4.) See Custom Molded Pucks from Advantage Puck Technologies
Our sister company, Advantage Puck Technologies, will be sharing Simplimatic's booth space to show visitors several of their custom pucks (aka huggers) designed to stabilize products and standardize fill height. When customers partner with Advantage Puck they gain access to a full-service puck supplier equipped with the most innovative technologies, 3-D designs, FDM prototypes, fast turnaround, competitive pricing, and the best-quality pucks made from virgin resin.
"We're excited to remind visitors just how much our sister company can accomplish for their line," Welsch said. "Pucks are a product that give customers a quick return of investment by standardizing their product line to save changeover time, and cost."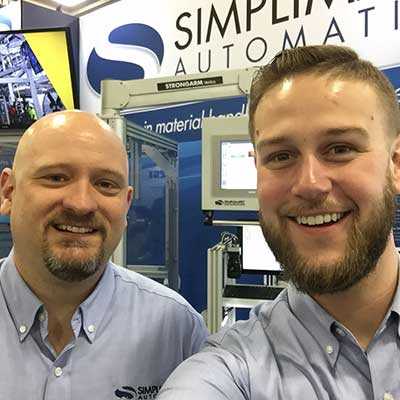 5.) Last, but not Least, Come Meet the Friendly Team of Simplimatic!
We love getting the chance to meet our valuable current and future customers at trade shows. Our friendly team is always ready to talk about projects, and to demonstrate the latest and greatest from the material handling and automation leader. In the event you have a project that you'd like to discuss, send us a line and we'd be happy to schedule a meeting. (Who knows, that email may lead to dinner and a night on the town in beautiful Las Vegas).
Feel free to schedule your email by filling out any of our contact forms, visiting Simplimatic at the show, or by dropping us a line on social media. See you in Vegas!