Cimtrak® Walk-Over Conveyor
Cimtrak® Edge Belt Walk-over Conveyor allows product to be conveyed under overhead objects or within recessed flooring at a PCB manufacturing facility. Conveying near or below the manufacturing floor level allows operators to cross over the conveyor with stairs or by stepping directly onto the conveyor without the need to travel around the line. This niche' product is an alternative to Cimtrak shuttle gate and Cimtrak lift gate systems when overhead clearance is an issue for conventional edge belt conveyor.
Simplimatic's electronics design philosophies have been highly regarded by the electronics industry since 1988 and are known to have an average service life of more than 15 years.
Each electrostatic dissipative Cimtrak product features:
Solid conveyor belt construction – Non-spliced, fiberglass reinforced transmission belts for superior strength
Reliable DC stepper motors – Virtually service free and allows for precise adjustments to velocity, torque, and acceleration
Premium rail design – Cimtrak® conveyor features zero gap between belt and edges to eliminate jams
Adjustable in-feed tips – Can be lengthened by up to 4'' for easy install
Extruded aluminum framework – Provides a light and strong chassis
Industry 4.0 communication – Available with several PLC options and can be configured for smart industry 4.0 communication
Contact a member of the Simplimatic sales team for more information or to request a quote for a Cimtrak Edge Belt Walk-Over.
SKU: Cimtrak® Walk Over Conveyor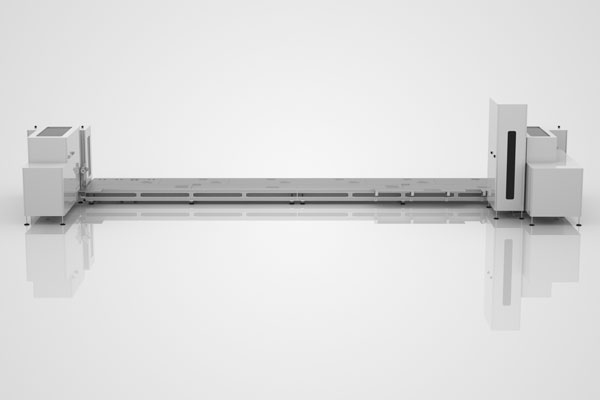 Zero-gap edge guides eliminate the danger of boards becoming jammed under the edge guide
Other customer-specified voltages available
Safety-interlocked access doors
Rod less-cylinder design is simple, reliable, repeatable, and easy to maintain
High-precision THK linear guides
Standard Allen-Bradley controller system supports an optional touch screen interface and can be expanded to include network capability
Backed by worldwide service and support from Simplimatic Automation
Design and built in the USA
Power width control (PWC)
Dual lane
Right-to-left transfer
Rear fixed rail
Tooled width adjust
Slide width adjust – cam locks on width adjust