Cimtrak® Edge Belt Lift Gate
Cimtrak Edge Belt Lift Gates are used to create a pedestrian aisleway in a production line which is typically closed. Product is conveyed across this machine until an operator presses the "open" button, which pauses the up-line flow and unlocks the gate. The gate features a counter-weighted electromagnetic lock, designed for easy opening.
Simplimatic's electronics design philosophies have been highly regarded by the electronics industry since 1988 and are known to have an average service life of more than 15 years.
Each electrostatic dissipative Cimtrak product features:
Solid conveyor belt construction – Non-spliced, fiberglass-reinforced transmission belts for superior strength
Reliable DC stepper motors – Virtually service free and allows for precise adjustments to velocity, torque, and acceleration
Premium rail design – Cimtrak conveyor features zero gaps between belt and edges to eliminate jams
Adjustable in-feed tips – Can be lengthened by up to 4'' for easy install
Extruded aluminum framework – Provides light and strong chassis
Industry 4.0 communication – Available with several PLC options and can be configured for smart industry 4.0 communication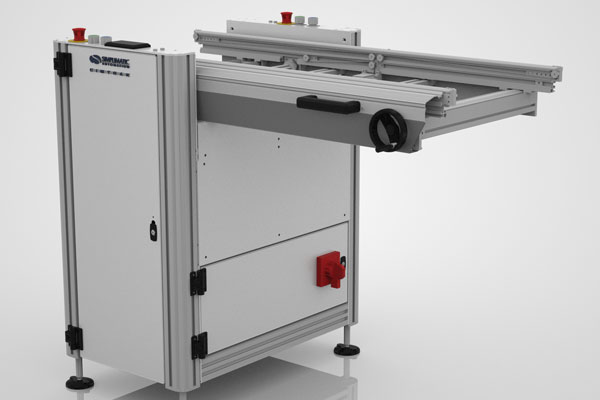 Description
Allen Bradley® PLC | Emergency stop and reset controls | hand crank width adjust | Fully counter-weighted gate | Electromagnetic lock | Adjustable gas shocks and stops | Typical applications include: creating an aisleway in a long production line, low-cost solution for openings on a pallet return loop |Electricity required: 110/220 V AC. 3 A, 50/60 Hz
Allen Bradley® PLC
Emergency stop and reset controls
Hand crank width adjust
Fully counter-weighted gate
Electromagnetic lock
Adjustable gas shocks and stops
Typical applications include: creating an aisleway in a long production line, low-cost solution for openings on a pallet return loop
Electricity required: 110/220 V AC. 3 A, 50/60 Hz
Options
50" lift gate features a 28" opening
60" lift gate features a 38" opening
Power width control (PWC)
Precision-cut, proprietary aluminum extrusion frame
Other customer-specified voltages available
Optional docking tooling for downline machine
High-speed DC motors can move a five-pound product at 70 ft/min
Leveling foot pads with 3/4" threaded steel rod and locking nut for height adjustment
Hinged access panels
Backed by worldwide service and support from Simplimatic Automation
Design and built in the USA