Cimtrak® Bare Board Stacker
The Cimtrak Bare Board Stacker from Simplimatic Automation is a modular, high-speed method for removing unpopulated printed circuit boards (PCBs) from product marking lines or cells. Each unit is capable of independent operation utilizing an Allen-Bradley® PLC, but the system is designed to be linked with up-line or down-line systems using SMEMA Communications.
This bare board stacker can be configured to operate in pass-through operation when board stacking is not required. This system is a popular method for removing boards in high-mix applications.
Simplimatic's electronics design philosophies have been highly regarded by the electronics industry since 1988 and are known to have an average service life of more than 15 years.
Each electrostatic dissipative Cimtrak product features:
Solid conveyor belt construction – Non-spliced, fiberglass-reinforced transmission belts for superior strength
Reliable DC stepper motors – Virtually service free and allows for precise adjustments to velocity, torque, and acceleration
Premium rail design – Cimtrak conveyor features zero gaps between belt and edges to eliminate jams
Adjustable in-feed tips – Can be lengthened by up to 4'' for easy install
Extruded aluminum framework – Provides light and strong chassis
Industry 4.0 communication – Available with several PLC options and can be configured for smart industry 4.0 communication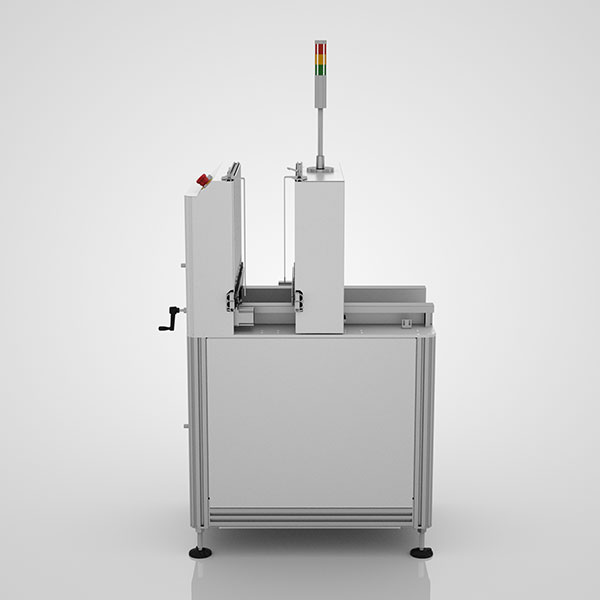 High-speed DC stepper motor conveyor | Available passthrough mode | Hand crank width adjust| Easy board thickness adjustment | Holds 10" stack up to 18" x 20" | Four-second cycle time | Many additional benefits and available options | Typical applications include: conveyance of PCBs, Auer boats, and JEDEC trays between manufacturing processes; buffering and metering; acting as a platform for inspection, product ID, manual placement, and other processes.
Power width control
Tooled width adjust
Right to left transfer
Unit can be fully loaded and still allow product to pass through
Dual THK linear guides support the moveable tower
Other customer-specified voltages available
Automatically turns off SMEMA when the width-adjust handle is inserted
Slide-out electrical panel
Adjustable to accommodate differing board thicknesses
Zero-clearance edge guides eliminate boards jamming under the edge guide
Standard Allen-Bradley controller can be expanded to include network capability
Backed by worldwide service and support from Simplimatic Automation
Design and built in the USA