Optitrak™ Curing Tower
Optitrak Curing Towers are designed to buffer 40 optical trays while providing 20-30 minutes of curing time. This system features a very compact 26" square footprint to ensure manufacturing space is used as efficiently as possible. The buffering action of the vertical accumulator allows for an uninterrupted manufacturing process which results in greater machine utilization. These machines are typically used between the optical blocking and generating process. The buffer capacity and speed of the tower can be adjusted to provide the optimum curing duration between processes.
Simplimatic's line of Optitrak products are designed to carefully handle a variety of ophthalmic products such as optical trays filled with eyeglasses, lenses, and other eye care items. Each Optitrak™ product can be integrated with Simplimatic's Simpli-Flex® table-top conveyor for a more complete final packaging and shipment line. Optitrak™ products can also be integrated within a customer's pre-existing line layout to suit a variety of optical factory and warehouse environments.
Optitrak product components include:
Rugged Frame Design – Optitrak products are constructed using strong 6063-T6 extruded aluminum
Compatible – Can easily be paired with Simplimatic's Simpli-Flex conveyor
Customizable – Curing time, tray size compatibility, and other features can be customized based on customer need
For additional product information, or to order Simplimatic's Optitrak Curing Towers, request a quote.
SKU: Optitrak Curing Tower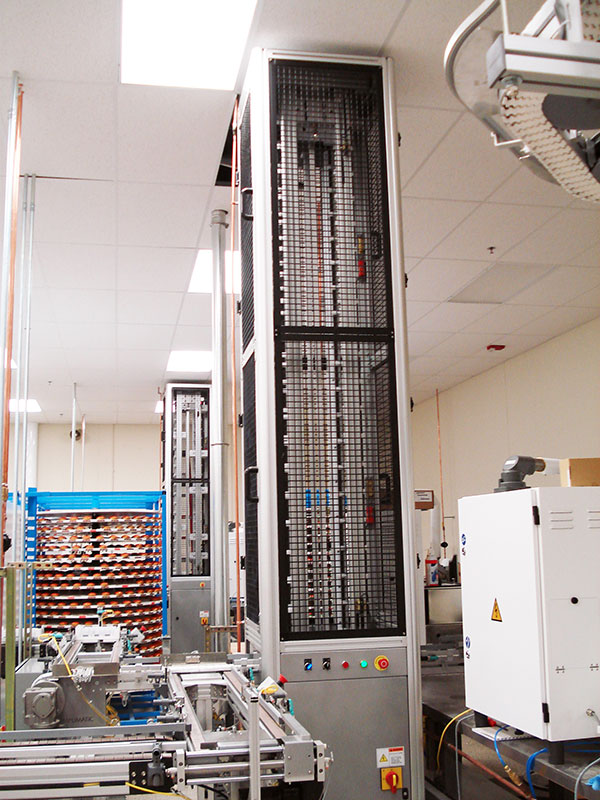 The Optitrak Curing Tower is typically used between the blocking and the generating process. The buffering capacity and speed of the tower can be adjusted to provide optimum curing between processes | Typical applications include: buffering between ophthalmic manufacturing processes.
Painted or stainless steel
20-30 minutes of curing time with adjustments available to provide optimum curing
Designed to buffer 40 optical trays
Buffering action allows for uninterrupted manufacturing processes
Designed with rugged 6063-T6 extruded aluminum
Backed by worldwide service and support from Simplimatic Automation
Designed and built in the USA