Optitrak™ Tray Elevator / Lowerator
Optitrak Tray Elevator/Lowerator systems allow optical conveyors to go vertical so optical lines can easily connect the surfacing area and finishing areas of production without taking up valuable floor space. Simplimatic's flighted elevators will quickly and smoothly raise and lower optical trays to an overhead conveyor section while keeping your work-in-progress in continuous flow. The in-feed and discharge elevations can be customized based on customer needs.
Simplimatic's line of Optitrak products are designed to carefully handle a variety of ophthalmic products such as optical trays filled with eyeglasses, lenses, and other eye care items. Each Optitrak product can be integrated with Simplimatic's Simpli-Flex® table-top conveyor for a more complete final packaging and shipment line. Optitrak products can also be integrated within a customer's pre-existing line layout to suit a variety of optical factory and warehouse settings.
Optitrak™ product components include:
Rugged Frame Design – Optitrak products are constructed using strong 6063-T6 extruded aluminum
Compatible – Can easily be paired with Simplimatic's Simpli-Flex conveyor
Customizable – Infeed, discharge, and other features can be customized based on customer need
For additional product information, or to order Simplimatic's Optitrak Elevator/Lowerator, request a quote.
SKU: Optitrak Tray Elevator / Lowerator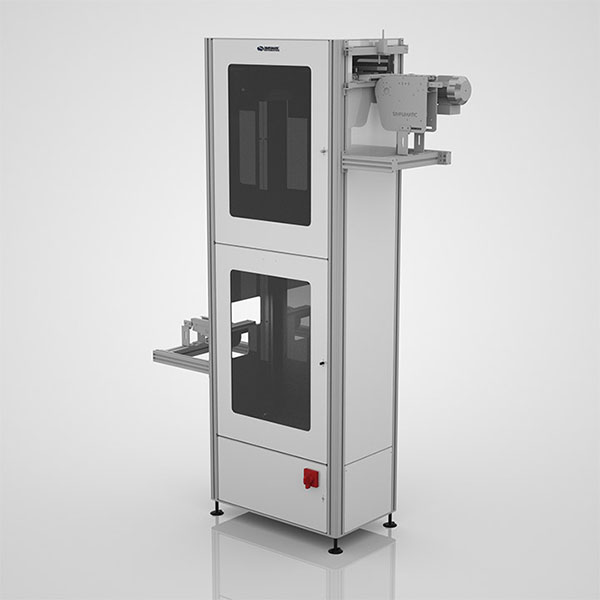 Various size trays, height requirements, or manufacturing facilities can easily be accommodated with this custom piece of equipment | Designed to smoothly interact with various Simplimatic material handling and automation equipment.
Can be designed to accommodate various size optical trays or differing line layouts
Can be combined with other Simplimatic systems such as Simpli-Flex conveyor
Small 24" x 24" footprint
Can easily accommodate most factory layouts
User-friendly control panel and user controls
Backed by worldwide service and support from Simplimatic Automation
Designed and built in the USA