Palletizing Series
As an authorized system integrator for Fanuc® and several other robotic manufacturers, Simplimatic has the relationships and experience necessary to design and integrate the ideal palletizing and/or depalletizing setup for any application. Simplimatic designs, manufactures, and integrates custom robotic palletizers and depalletizers for customers around the globe.
Customers choose to buy palletizers from Simplimatic Automation in order to get away from the "one size fits all" approach taken by other palletizing suppliers. Every robotic palletizing system that Simplimatic supplies is engineered for our customer's desired speed, service life, payload, reach, repeatability, and affordability to guarantee implementation success.
Simplimatic's robotic palletizing systems are used in the:
Packaged food industry
Personal healthcare industry
Medical device industry
Consumer packaged goods industry
Beverage industry
Household appliance industry
Cosmetic industry
And many more
For more information on robotic automation, contact the Simplimatic sales team today.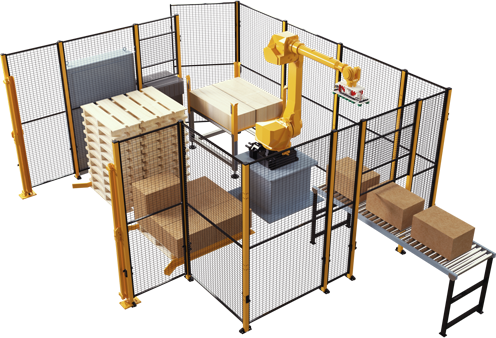 Palletizer Series 1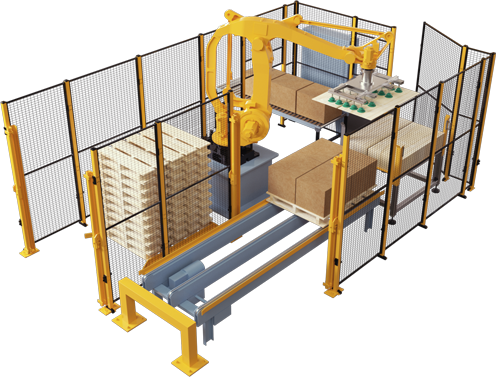 Palletizer Series 2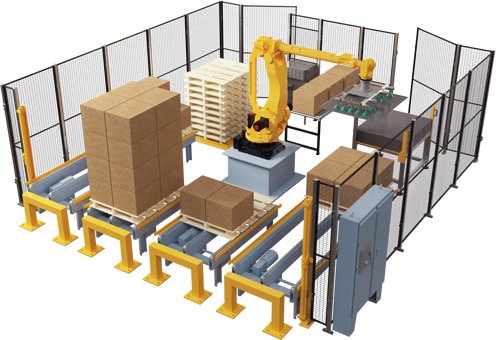 Palletizer Series 3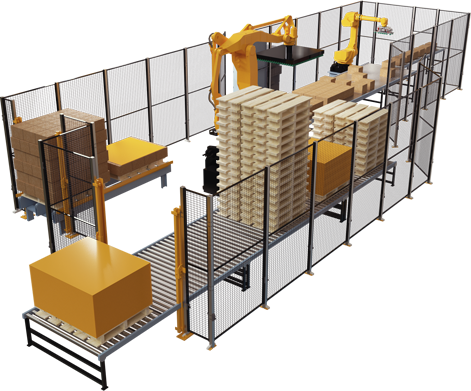 Palletizer Series 4
Palletizer System Details
Simplimatic Robotic Palletizing Systems are designed to load single or multiple pallets simultaneously. Simplimatic supplies palletizers in both conventional multi-axis as well as force-limiting collaborative varieties with payloads available ranging from .5 kg up to 700 kg depending on project need. All Simplimatic robotic palletizers are available with custom recipes to allow a single cell to handle multiple SKUs with variable stacking patterns.
Both off-the-shelf and custom end-effectors such as vacuum cup grippers, pneumatically controlled grippers, and servo-driven grippers are available to customers depending on product type and pallet loading preference. This large variety of custom tooling paired with sensitive sensors allows for the precise handling of products ranging from pliable toilet paper to heavy boxes of medical devices or computer products.
Simplimatic robotic systems are easily integrated with new or existing material handling lines and other production setups.
Related Products