Cimtrak® Shuttle Gate
Cimtrak® Edge Belt Shuttle Gates allow products to be conveyed across an opening in a production line. This allows operators to pass between machines in a line instead of walking around the end of the line. The shuttle remains retracted until a board is ready to transfer. The average cycle time is seven seconds.
Simplimatic's electronics design philosophies have been highly regarded by the electronics industry since 1988 and are known to have an average service life of more than 15 years.
Each electrostatic dissipative Cimtrak product features:
Solid conveyor belt construction – Non-spliced, fiberglass reinforced transmission belts for superior strength
Reliable DC stepper motors – Virtually service free and allows for precise adjustments to velocity, torque, and acceleration
Premium rail design – Cimtrak® conveyor features zero gap between belt and edges to eliminate jams
Adjustable in-feed tips – Can be lengthened by up to 4'' for easy install
Extruded aluminum framework – Provides a light and strong chassis
Industry 4.0 communication – Available with several PLC options and can be configured for smart industry 4.0 communication
Contact a member of the Simplimatic sales team for more information or to request a quote for a Cimtrak Edge Belt Shuttle Gate.
SKU: Cimtrak Shuttle Gate – Model 3260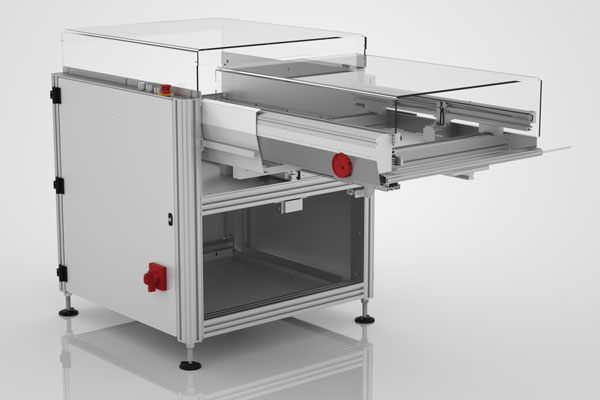 Zero-gap edge guides eliminate the danger of boards becoming jammed under the edge guide
Other customer-specified voltages available
Precision-cut, propriety aluminum extrusion frame
Extruded frame and conveyor rails allow accessories to be easily added and positioned
All Edge Belt Connecting Conveyors are bi-directional
High-speed DC stepper motors can move a five-pound product at 70 ft./min
Modular conveyor rails allow the length of the conveyor to be significantly increased or decreased at a minimal cost
No driveshafts to align or guard
Typical applications include: Conveyance of PCBs, Auer boats, and JEDEC trays between manufacturing processes; buffering and metering; acting as a platform for inspection, product ID, manual placement, and other processes.
Backed by worldwide service and support from Simplimatic Automation
Design and built in the USA
Power width control (PWC)
Dual lane
Right-to-left transfer
Rear-fixed rail
Tooled width adjust – requires tools to adjust
Slide width adjust – cam locks on width adjust
Wireless SMEMA communication-eliminates need for wireway across aisle