Cimtrak® AOI Reject Conveyor
Simplimatic's Cimtrak AOI Reject Conveyor allows printed circuit board manufacturers to easily isolate bad or rejected boards from production. Board rejection is based on up-line process input, typically provided by Automated Optical Inspection (AOI) systems.
This conveyor system uses pneumatically-controlled channels to carefully lift and remove PCBs from the line for secondary human inspection and rework without slowing down or stopping production. The SMEMA-compliant system also features a board return function to gently reintroduce isolated PCBs back to production.
Simplimatic's electronics design philosophies have been highly regarded by the electronics industry since 1988 and are known to have an average service life of more than 15 years.
Each electrostatic dissipative Cimtrak product features:
Solid conveyor belt construction – Non-spliced, fiberglass-reinforced transmission belts for superior strength
Reliable DC stepper motors – Virtually service free and allows for precise adjustments to velocity, torque, and acceleration
Premium rail design – Cimtrak conveyor features zero gaps between belt and edges to eliminate jams
Adjustable in-feed tips – Can be lengthened by up to 4'' for easy install
Extruded aluminum framework – Provides light and strong chassis
Industry 4.0 communication – Available with several PLC options and can be configured for smart industry 4.0 communication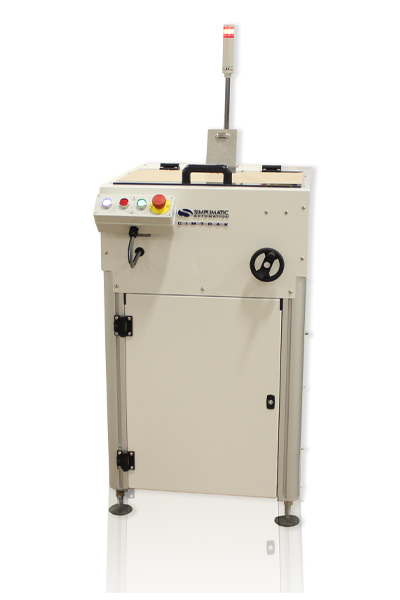 Cimtrak® Edge Belt Reject Conveyors are designed to quickly and efficiently remove bad boards from manufacturing processes without causing any line stoppage.  The system uses pneumatically operated fingers to lift bad boards from the edge belt conveyor and allow good boards to continue traveling down line.
One drive with variable speed of 1-70 ft/min
Includes EMO and ESD grounding receptacles
Hand crank width adjust 2-18"
37 in elevation, adjustable +/- 2 in
Cimtrak® programmable width control adds programmable width to above unit, width value can be entered using local HMI, and encoded stepper controller is used for width movements
Optional scalloped table and footrest
Optional overhead light and accessory frame
Electricity required: 110 VAC, 5 amps, straight blade plug
Allen Bradley PLC
Independent DC stepper conveyor motors
3 mm edge contact, 5 mm overall edge clearance
ESD timing belts
0.8 m overall length
Right to left transfer, front fixed rail
SMEMA interface
Hinged lexan cover, not interlocked
Precision-cut, proprietary aluminum extrusion frame
Other customer-specified voltages available
Pneumatically operated fingers lift the bad board up between guides, creating room underneath for good boards to pass under
2 inch top side clearance for good boards under lifted bad boards
Includes release button to return board to conveyor
Includes pneumatic control panel
Includes SMEMA logic upgrade to accept signal from up-line machine or pass signal down line
Backed by worldwide service and support from Simplimatic Automation
Design and built in the USA