Cimtrak® Power & Free Conveyor
Cimtrak Power and Free Conveyors are a low back pressure roller chain conveyor used to transport product between manufacturing processes while contacting the product only along its edges (requires 5 mm edge clearance). Power and Free conveyors can be used as a simple means of spanning large distances or for end-of-line accumulation. Ergonomic workstation accessories can also be added.
Simplimatic's electronics design philosophies have been highly regarded by the electronics industry since 1988 and are known to have an average service life of more than 15 years.
Each electrostatic dissipative Cimtrak product features:
Solid conveyor belt construction – Non-spliced, fiberglass-reinforced transmission belts for superior strength
Reliable DC stepper motors – Virtually service free and allows for precise adjustments to velocity, torque, and acceleration
Premium rail design – Cimtrak conveyor features zero gaps between belt and edges to eliminate jams
Adjustable in-feed tips – Can be lengthened by up to 4'' for easy install
Extruded aluminum framework – Provides light and strong chassis
Industry 4.0 communication – Available with several PLC options and can be configured for smart industry 4.0 communication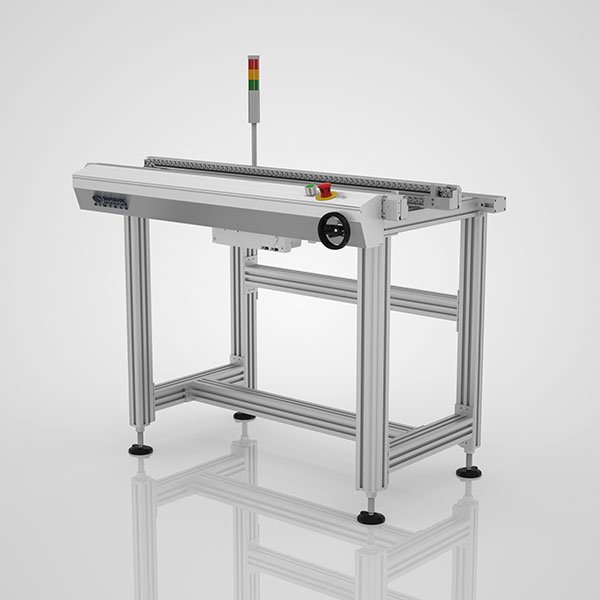 DC motor | Emergency stop and reset controls | Beveled-edge, low-friction ESD roller chain | Zero-gap edge guide | ESD wrist strap receptacles | Typical applications include: conveyance of PCBs, pallets, Auer boats, and JEDEC trays between manufacturing processes; buffering, indexing, or singulating products; acting as a platform for inspection, manual assembly, or cooling | Electricity required: 110 V AC, 5 amps, 50/60 Hz | Air required: OFA, 80 PSI, 0.2 CFM.
3 mm or 6 mm chain
PLC control (required for indexing functions or most operator controls/interfaces)
Length (3-20 ft)
Fixed width
Light tower
Fixed stop at discharge end
Foot rests, armrests, and workstation accessories
Worktables
Cooling fan banks
Pneumatic stops and singulators
Zero-gap guides eliminate the danger of boards becoming jammed under the edge guide
Other customer-specified voltages available
Precision-cut proprietary aluminum extrusion frame
Extruded frame and conveyor rails allow accessories to be easily added and positioned
High-speed DC motors can move a 10 lb product at 60 ft/min
Optional pneumatic product stops can be positioned anywhere along the length of the conveyor
Optional product singulators can segregate a single product from a continuous queue
Backed by worldwide service and support from Simplimatic Automation
Design and built in the USA