Cimtrak® Bare Board Mechanical Gravity Destacker
The Cimtrak Bare Board Mechanical Gravity Destacker from Simplimatic Automation is a modular high-speed method for unloading unpopulated printed circuit boards (PCBs) onto an electronics assembly line. Each unit is capable of independent operation utilizing an onboard Allen-Bradley® PLC, but the system is designed to be linked with other up-line or down-line processes using SMEMA communications.
This bare board destacker is a popular method for loading printed circuit boards in high-mix applications, as the only changeover requirement is width adjustment.
Simplimatic's electronics design philosophies have been highly regarded by the electronics industry since 1988 and are known to have an average service life of more than 15 years.
Each electrostatic dissipative Cimtrak product features:
Solid conveyor belt construction – Non-spliced, fiberglass-reinforced transmission belts for superior strength
Reliable DC stepper motors – Virtually service free and allows for precise adjustments to velocity, torque, and acceleration
Premium rail design – Cimtrak conveyor features zero gaps between belt and edges to eliminate jams
Adjustable in-feed tips – Can be lengthened by up to 4'' for easy install
Extruded aluminum framework – Provides light and strong chassis
Industry 4.0 communication – Available with several PLC options and can be configured for smart industry 4.0 communication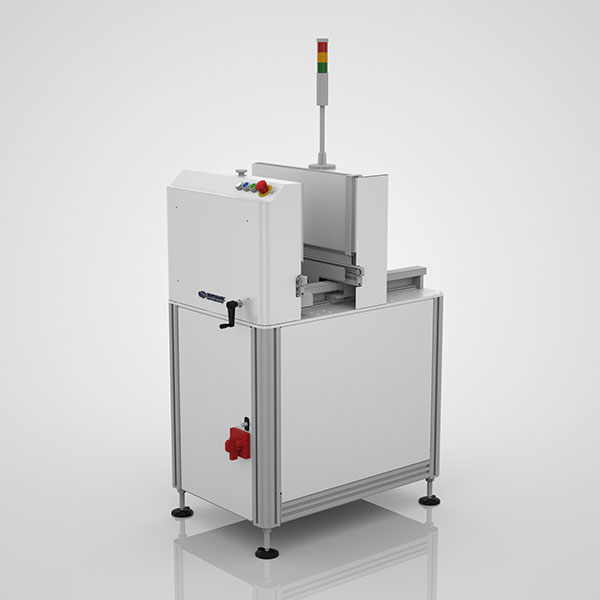 High-speed DC stepper motor conveyor | Holds 10" stack up to 18" x 20" | Adjustable conveyor speed with two presets | Hand crank width adjust | Emergency stop, reset, inspect, and release controls | Allen-Bradley PLC.
Power width control
Belt width
Zero-gap edge guides eliminate the danger of boards becoming jammed under the edge guide.
Precision-cut, propriety aluminum extrusion frame
Other customer-specified voltages available
All Edge Belt Connecting Conveyors are bi-directional
High-speed DC stepper motors can move a five-pound product at 70 ft./min
No driveshafts to align or guard
Typical applications include: printed circuit board loading, panel loading,
Backed by worldwide service and support from Simplimatic Automation
Design and built in the USA
Related Products