Simpli-Flex® Lift Gate Conveyor
Simplimatic's Simpli-Flex Lift Gate conveyor creates a pedestrian aisleway for material handling lines in locations that require backside access. The gate features a counter-weight and pneumatic pistons to make lifting the gate easy. Available as an independent unit, or with upstream product stops and controls, this modular conveyor opening is the easiest method to add an aisleway to an existing conveyor system.
Simpli-Flex conveyor provides unsurpassed versatility with its reconfigurable design and modular components. System components and options include:
Modular Frame Design
Guide rails – Fixed or adjustable to suit high-mix environments
Numerous Chain Types – Finger top, open top, friction top, semi-closed top, steel top, fully-closed top, gripper top, and flighted top
Designed as an expandable conveyor system, Simpli-Flex is available in nearly any length with thousands of possible drive, chain, guide rail, and accessory combinations. Simpli-Flex orders are typically custom-tailored to each individual customer. For additional product information, or to order Simpli-Flex Lift Gate Conveyor, request a quote button below.
SKU: Simpli-Flex® Lift Gate Conveyor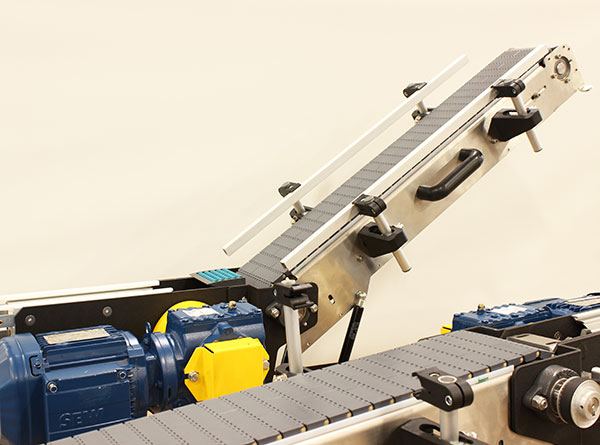 Fully counter-weighted gate | Adjustable gas shocks and stops | Typical applications include: creating an aisleway in a long production line.
50" lift gate features a 28" opening
60" lift gate features a 38" opening
Custom Widths Available
Backed by worldwide service and support from Simplimatic Automation
Designed and built in the USA